Feature
a charitable trust that has been providing services for children with developmental, behavioral, emotional and educationa
---
'Living with Pythons' is a nationwide initiative kick started in 2017 by Nirmal U Kulkarni,
---
You Don't Need a Drone Here
---
To be recognized as a leader in using quality products, great fun, attentive service with a dash of attitude.
---
It's been like a wonderful train journey, rhythmic while travelling, while the stops along the way have been sometimes
The Seventh edition of GALF is by far the biggest, broadest and most spectacular literary gathering to take place in Goa
Who Said You Can't Enjoy Opulence And Love The Planet, Too?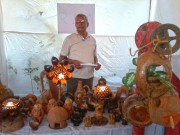 An ex-physical education teacher who loves designing art pieces from coconut shells.
Life is a celebration; why wait for special occasions and events to celebrate life.
No Posts Yet