Trailblazers of Goa: Passionate People Who Make A Difference
Tyred chillies and mussel fridge magnets. Beachside elements unearthed.
Magically, they find their innocent way into Subodh Kerkar's 3D installations.
Never has so much art in one state been driven by one man. Doctor and artist extraordinaire Subodh Kerkar is bringing art to everyone.
His Museum of Goa is the largest private art space in India.
EDITOR'S NOTE: The Goa Streets series, "Trailblazers of Goa: Passionate People Who Make A Difference" features awesome photos and interviews with those in this delightful state of ours who break convention, obliterate barriers, create new realities and inspire us to greater heights. We have asked each of our Trailblazers the exact same 5 questions, including who they'd invite to a party if they could invite any 5 people, living or dead, what they'd change about Goa if they could be King or Queen, and what their secrets are. This week's Trailblazer is Subodh Kerkar, who is best known for his stunning installation art (3D sculptures displayed in public aiming to transform a space's vibe). Read on and see how many times Subodh has watched Audrey Hepburn in "Roman Holiday." Trailblazers of Goa pictures have been taken by noted photographer Eugen Hanley, with words by long-time writer and world traveller Hilary Lapedis.
Dr Subodh Kerkar is appealing. Appealing to the people. Artist, curator, artist activist. He is appealing, and making an appeal. Dr Subodh Kerkar just won't sit still. Smiling, chatting and breathing effervescence. Art in Goa is defined by Subodh's passionate dynamism. He bubbles and fizzes energy.
"Art is not just my profession, it is the very breath of my life."
Think of art. Think of art in the street, in the airport, in the museum. Think of art in Goa and you think of Subodh. The picture of the artist is usually one of a disheveled misfit sketching away in a dusty garret. Delete that jaded image now! Replace with Subodh, kurta-clad, scrambling joyously over his new installation of laterite stone faces in Calangute. See Subodh in his fabulous Museum of Goa that oozes modernity. See him on the international platform exhibiting his installations. At the Saatchi Gallery in London and at the Gulf Art Fair in Dubai. Watch him waiting for the dialogue between locals and the artifact to start. For Subodh, it is this dialogue that will lead us all to a healthier society.
"Artists have to be politically and socially conscious," Subodh declares.
"Art has the power to make a more tolerant and plural society" is the mantra that underpins the doctor/artist's life mission. He quotes Joseph Beuys the German installation artist and Rumi the Sufi mystic poet to underpin his heartfelt assertion that without art, we are living in a world of monologues. It is his duty and passion to lead us all to a new space where we can meet and come together. Museum of Goa, the largest private art space in India, is where he hopes this can happen. The world is full of binaries that cause conflict and it is through art that the public can see the universality of the world and not the polarities. "Art converts the regional into the universal".
Dr Subodh Kerkar is undoubtedly a mover, a shaker and a motivator for all that is artistically and humanly possible. "Your mind should be as large as the ocean and as wide as the horizon", Subodh's father told him. As a doctor, Subodh healed the body and now as Goa's artist, he is nursing our souls.
Subodh, you make a difference!
What inspires you about Goa?
Subodh Kerkar: What inspires me about Goa is her coastline, her greenery, her rivers and her free liberal air.
If you could become King or Queen of Goa, what would you change about it?
I would make Goa 100 % garbage-free, stop indiscriminate ugly constructions and promote conservation of her architectural heritage. I would ensure that we have abundant public art juxtaposed with her rich landscape. I have many more ideas for Goa. However, I do not feel this is the forum to voice them all. Otherwise this interview would become my political speech, which I am not allowed to deliver now, since the Election Commission has made me the State Election Icon.
If you could throw a party and invite any 5 people in the world, living or dead, who would they be?
I would invite
1. Mahatma Gandhi because he is my favourite leader in the world.
2. Picasso because of his innumerable innovative discoveries and experiments with art.
3. Albert Einstein who was perhaps the greatest rationalist of the world.
4. Audrey Hepburn because I have watched 'Roman Holiday' 10 times and never got tired of it.
5. Winston Churchill because every party requires some garnishing of good humour.
What drives you in life?
My passion and my love for arts drive me.
What are your hopes and dreams for Goa?
Goa is already Number One place in the country to live according to the Human Development Index. I would like to see it Number One place in the world.
Please tell us a secret or some secrets about yourself?
I try never to hate anybody, but unfortunately I am not very successful yet. I have given up smoking, but yet not succeeded in diminishing my love for alcohol, which I intend.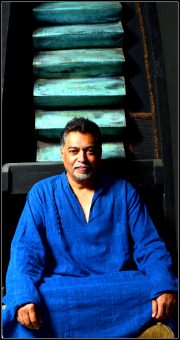 For more information about the Museum of Goa, click here.
To read about our previous Trailblazers, click below.
Diviya Kapur
Colin D'Cruz
Shilpa Mehta
Photographs Copyright Eugen Hanley