Veteran Goan Artist's Church Paintings Show Rich Symbolism
Sadguru Chendvankar has always been fascinated by the whitewashed churches that loom gracefully over the hills, islands and riverbanks of Goa. One of the oldest practicing artists in Goa, he has been exploring diverse mediums. His exhibition titled 'Spires in The Sky' opened on 19th February at Gallery Gitanjali in Panjim.
In this lyrical meditation on the 'churchscapes' of Goa, he deliberates on these magnificent edifices, embedded as they are in the psyche of the land. The semi-abstract imagery and saturated colours of his landscapes portray the rich symbolism steeped in the socio cultural fabric of Goa.
Look at the 30 paintings displayed and you can see a free flowing stream of thought. The subtle textures, colours and strokes dance in a balance of light and shade, saddling a duality between form and subject.
Shapes appear and disappear in the architectural scenarios, depicting urbanism in cubist arrangements, with accentuated lines highly reminiscent of stained glass windows.
Sadguru remembers the churches as they appear during the day and night in the Goan countryside, giving a surreal effect of transformed energy and beauty. The luminosity and density of colour come from a delightful spontaneous precision, that seems to refute any notion of accidental elements.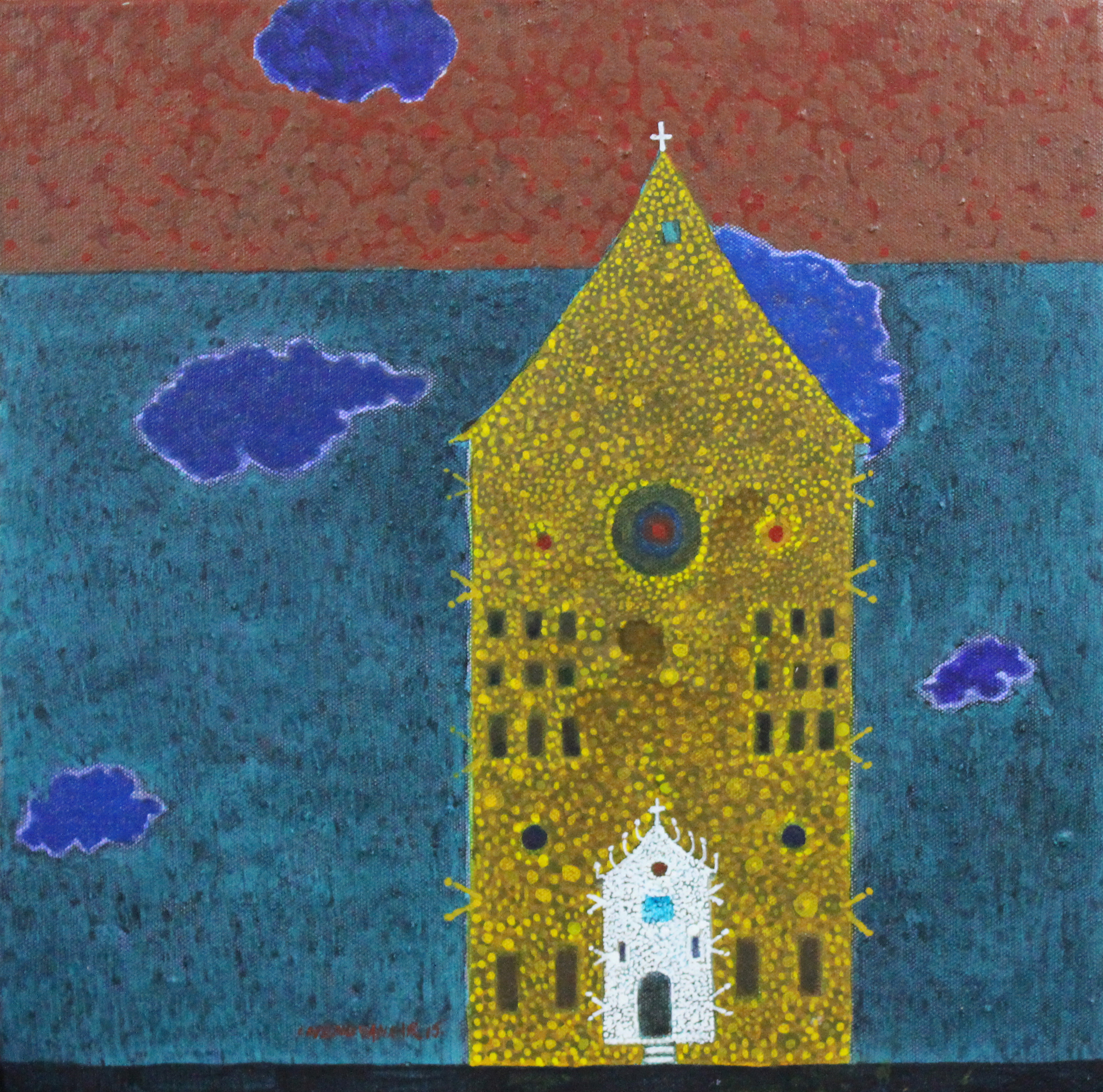 In his images of a pristine unpolluted Goa, the forms engage in dialogue, bridging reality and mystery and rhythm. The expressive backgrounds in red, black, blue and green defy convention. His brushstrokes celebrate a joyous mood in flowing lines, creating an enigmatic nostalgia of undertones that rise and fall like a melody.
Sadguru tells me that the families of aspiring artists of his generation in Goa did not encourage them to pursue art, as it was neither lucrative nor fashionable to be an artist, as it is today. Almost all the Goan artists of his genre went to Mumbai to study art. Sadguru did his Master's Diploma in Painting at the prestigious J J School of Art of Bombay in 1974 where he pursued various mediums and forms. He won a top prize for his work in egg tempera painting. Sadguru worked in graphics, water wash and charcoals as well, and his prints gave him insights into how to ground a painting.
Sadguru is an expert in cold ceramics (also known as cold porcelain), an art form that originated in Argentina. Unlike ceramics where the material is clay, this is an inexpensive, non-toxic, easy-to-work-with material whose main components are cornstarch, white glue and food colour. Cold ceramic material can also include oils and glycerol which promotes a porcelain-like smooth texture. It is ideal for miniature flowers, leaf sculptures, figurines and jewellery. The sculpted objects harden by exposure to fresh air and do not require heat for curing. However, once cured they easily soften or even dissolve by heat or water, and is hence not suitable for making crockery.
From 1975-83, Sadguru taught art at Kala Academy. He then went on to teach at the Goa College of Art until 2006, and many of the present artists in Goa have studied under him. On retirement from the Art College he set up his studio at Sangolda in North Goa. At 68, he continues to tutor and mentor Goan artists. His new work also continues to stimulate his viewers.
"It's been a very fulfilling and exciting journey, one which started over 30 years ago. I sailed through the depression in the art market during the eighties, and continued exploring my creative potential. Working in semi abstraction has become my style. I also have to mention that my students have developed into admirable artists, and have done me proud," says the veteran Goan artist.
He has been participating in solo and group shows since 1962. He has shown his work in Mumbai, Bangalore, Amritsar, Hyderabad, Chennai, New Delhi and Goa, winning the Goa State Art Exhibition award several times. He won the Lalit Kala Academy award in New Delhi in 1995 and the Veteran Artist Award from the All India Fine Arts & Crafts Society in 2010, and it doesn't look like he will be stopping any time soon!
'Spires in The Sky' will be on exhibit till 13th March 2016, at Gallery Gitanjali, Fontainhas, Panjim.