The economy hotel puts design in the spotlight with pep, pop and a touch of perky personality
---
Stay fit with Stepathlon by Goa Marriott Resort & Spa
---
Get ready for the exhilarating new PICNIC on the beach every Sunday at La Brise,
---
A new restaurant in Candolim with a King Arthur theme serves up delightful European food from Chef Navtej.
---
 March This Sunday In Solidarity With Earth's Other Beings Goa Is Part Of Worldwide Movement Against Animal Ab
Whacky, Wild and Naughty!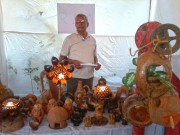 An ex-physical education teacher who loves designing art pieces from coconut shells.
Kornelia Santoro's new book Cooking for Happiness shows how to influence mood with food
Don't we love Men to dress smart, be super confident and also turn heads?
Stop right now and listen up
No Posts Yet