How He Died Takes A Back Seat To The Inflamed Passions Of Those He Left Behind
---
Jacob's Creek is the #1 imported wine brand in India
---
Trainer, motivational speaker, master of ceremonies and guest faculty of Dempo College
---
Daughters of Mother India are RISING
---
Turns Out, Lots!
It's Been An Emotional Roller Coaster Ride, But I'd Do It Again In A Cinematic Second!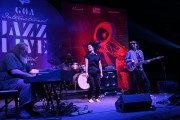 Art Escape Goa -The Live Music Project -Jazz in India, Gatecrash and Media Partner GoaStreets Present: GIJLF EDITION 3
Why Does It Always Have To Be A Fight Between Developers And Preservationists? Isn't there a Third Way?
In Some Ways, Goa Is India's Paris
Free thinkers or rigid traditionalists?
No Posts Yet