It's the rare woman who understands what looks best on her, says Ethel Da Costa.
---
Kidney transplantation provides high quality life-years to patients with irreversible kidney failure.
---
Fun and funky ideas on where to take the whole gang.
---
Beach Cleaning drive by Goa Marriott, Sunday Monsoon Brunch at Waterfront Terrace & Bar & Park Hyatt culinary masters.
---
A special kind of trading card, featuring works of art.
Issue No; 49 Pg No : 14 Date : Oct 17, prescription 2013
Gearin' Up for the Season.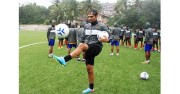 Karanjit Singh: champion goalkeeper in Goa.
Issue No : 49 Pg No :9 Date : Oct 17, 2013
Simply put, we need a revolution, says Armando Gonsalves.
No Posts Yet